Tech Toys
While the items listed below may not be as practical as pet trackers, cameras and feeders – they sure can be a lot of fun for you and your pet.  And interactive pet toys can be beneficial for your pet too – they can provide hours of mental and physical stimulation.
The most popular toy below is probably the least tech-focused – the iFetch automatic ball launcher.  While it is an electronic-powered ball launcher, we super-nerds would love to be able to control the launcher from an app on our phone.
The CleverPet Hub is the most intriguing toy as it is billed as the world's first game console for dogs. Watching your dog solve puzzles on a device created by scientists makes you wonder if there is a limit as to what our beloved pets can do.
For an indepth look at many of these toys, check out our Sep 2020 article on the latest interactive dog toys.
Name
 Who For
Description
Notes
CleverPet Hub
dogs
Game console for dogs.
Pupod Pet Tutor
dogs
Toy that teaches dogs to obtain treats
Pebby Ball
dogs, cats
Smart ball that is controlled by an app
No longer accepting pre-orders and things are getting ugly in the comments section of its Kickstart page (Dec 2019)
Petronics mousr
cat
App controlled movable toy that has a flickable tail
iFetch
dogs
Ball launcher for dogs
PlayDate
dogs, cats
Pet camera in a smart ball

Still in development

. Began shipping in 2019
GoBone
dogs
App-enabled smart bone
Wickedbone
dogs
App-enabled smart bone
CleverPet Hub
Billed as the first game console for dogs, the CleverPet Hub is a really unique product. The hub has three touchpads that light up and a food dispenser which form the basis for a series of puzzles designed to challenge your dog.  You can track progress and change the puzzles using an app connected to the hub.
Puppod
A smartphone connected puzzle toy that allows dogs to earn treats from a human of the optional bluetooth feeder.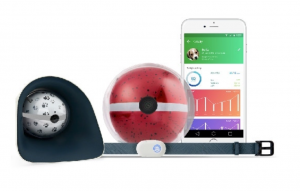 Pebby Ball
A remote controlled companion ball that is controlled from your smart phone. Features include a built-in camera, laser, two-way audio and an auto-play mode. Also, can be combined with a smart collar to track and monitor your pet's activity.
Mousr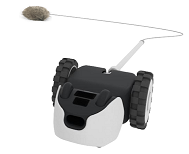 A toy that you can maneuver around a room using an app on your smart phone.  Comes with a variety of tail attachments to drive your cat crazy.
iFetch
Ball launcher for dogs. Three models: the original for small and medium dogs, the iFetch too for medium to large breeds, and the Frenzy for small dogs. The Fenzy, doesn't launch balls – the balls roll out of the base in a random direction.   
PlayDate
Crowdsourced toy that will be a smart ball containing a camera. Has been under development since 2016.  Began shipping the product in 2019.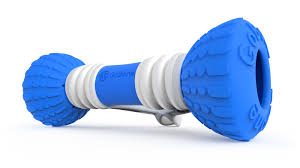 GoBone
Interactive app-enabled smart bone for dogs. It moves, spins and plays with your dog via controls on the app or in auto-play mode.