The 5 Best Subscription Boxes for Rabbits
With all the cool tools and treats for cats and dogs you might wonder, is there anything that interesting for my other furry friend with the big ears? The good news is that it is easy to discover new treats and gadgets for rabbits, and you don't have to spend a lot of money to find them. Simply sign up for a monthly bunny subscription box.
Bunny subscription boxes are a fun and economical way to keep your rabbit stocked with the latest treats and toys.  Here, we will review the 5 best plans. Because rabbits are much more popular as pets in the UK, only one of the companies below is based in the US.  However, most of the UK companies can ship internationally.
What you need to consider when getting these subscription boxes are:
The frequency of getting the treats and toys. Could be monthly, or after two weeks.
The cost of the subscription box.
The types of products your bunny will be getting.
Make sure you choose one that suits your little friend.
1. Bunnies that Lunch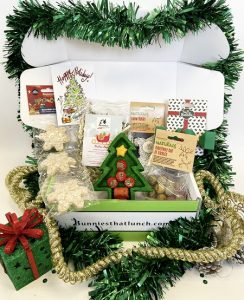 Bunnies that Lunch bills itself as "a little taste of luxury" for your pet rabbit.  New sign ups receive a "CRAZY FOR CARROTS" box, that includes all sorts of carrot-themed surprises. In addition to boxes for bunnies, the company also offers monthly subscription boxes for dogs and cats.  Each box contains a mixture of edibles and toys to keep your rabbit entertained.  The company is UK-based but ships its boxes throughout the world. Prices start at £10 per month (about $14 USD.)
Use the code MYDOG10 to get 10% off everything on their website.
BUNNIES THAT LUNCH
2. Binx Box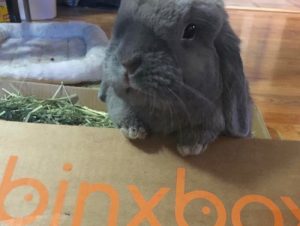 Binxbox is a US-based subscription service that specializes in house rabbits and other small animals like guinea pigs, chinchillas and even rats.  Their goal is to find top quality treats and toys for your bunny.  BinxBox offers monthly, bi-monthly (every other month) or single box options.
When you order this box, you will get 3-4 toys or supplies, 1 fruit treat and 1 herb treat packed into a box containing high-quality second cutting hay that your rabbit will find delicious.  This bunny subscription costs $29 per month for the monthly plan.
VISIT BINXBOX
3. Happy Bunny Club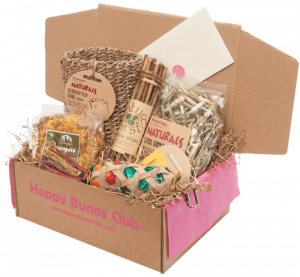 Happy Bunny Club promises quality within all their bunny subscription boxes. Each box contains 6-8 items including: 2 toys, 2 treats and surprise items. There are several optional add-ons that can be included in any box, such as a fabric tunnel, a plush bed, a rabbit grooming kit and other items.
As a bonus, they offer extra tips on how to take of your bunny alongside the subscription items. Happy Bunny Club is a charity organization so rest assured that when you get this bunny subscription box, another person (or animal) is benefiting. The subscription costs start from as low as £17 (approx $12.)  Although the company is based in the UK, they can ship their boxes internationally.
VISIT HAPPY BUNNY
4. Barks and Bunnies
Barks and Bunnies offers a range of dog and rabbit subscription boxes.  They currently offer 8 different rabbit focused boxes:  digestive health, relax, premium, premium PLUS, multi, multi PLUS, binky and binky PLUS.  They also ship a box specifically for guinea pigs.
Each box is unique and may contain dried herbs and treats, toys and well-being products. The boxes are fully customizable  The pricing starts at £9.99 per month. Like the Happy Bunny Club, Barks and Bunnies is based in the UK, but can ship their boxes internationally.
5. Buneats
Buneats is the latest entry to the rabbit subscription box market.  The contents of their boxes change each month, but typically contain 6-7 items ranging from food, treats, chews, toys and wearables.
Like most of the other companies, Buneats is based in the UK, but ships internationally.
| | | | |
| --- | --- | --- | --- |
| | My Dog is a Robot covers the pet technology industry. Keep up with the latest news about products, services and companies in the pet tech space. | | Contact Us |