Best Bark Collars for Small Dogs
Do you have a small dog that barks excessively for no good reason? Does he/she always bark at visitors or other dogs?
Have you tried every trick in the book to stop your canine barking, but nothing seems to work?
If you've answered yes to any of these questions, a bark collar might be the right solution for you and your small dog.
But what is the best bark collar for small dogs?
Well, this can be a tricky question as there are many bark collars with different features, sizes, and price tags on today's market. However, you have to be careful with selecting a collar for small dogs. The collar has to fit the smaller stature of your pup and you need to ensure that the strength of the stimuli produced by the collar is not too powerful for a tiny dog. For example, a vibrating collar for a large dog will necessarily be more powerful than one for a small dog.
That's why we've done the research and compiled a list of the best bark collars for small dogs, so you can find the right one for your furry friend.
But before getting into the review, first, let's take a look at why your pooch is barking, so you can tackle the problem at its root.
Why Your Dog Is Barking All The Time?
1. To Protect Its Territory
Some dogs are very protective of their territory and will excessively bark whenever someone or something enters the area to which they feel they own.
This is particularly common among dogs that live in rural areas and are used to guarding their homes against potential intruders.
2. Fear
Puppies bark for several different reasons, but one of the most common reasons is fear.
This can be the result of being startled by loud sounds, being around new people or animals, or feeling scared and insecure in a particular situation.
3. Boredom
Some pups will bark out of boredom and loneliness if they don't have anything else to do.
This is especially true for pets who are left alone for long periods of time without any stimulation or attention from their owners.
4. Attention-Seeking
Dogs can also bark to get attention from their owners.
When a dog feels ignored, it might start barking in order to get its owner's attention.
5. Separation Anxiety
Another common reason for dogs barking is separation anxiety.
Dogs who suffer from this condition become extremely anxious and stressed when they are separated from their owners, and often bark and whine as a way of dealing with their anxiety.
6. Compulsive Barking
Some dogs bark compulsively for no apparent reason. They just like the sound of their voice and will bark for hours on end if left unchecked.
This can be a very frustrating and difficult behavior to deal with, as the dog may not respond well to traditional training methods.
And in most cases, they will continue barking even if you yell at them or try to distract them with treats.
In this case, your best bet to stop the behavior is to get a bark collar.
What Are Bark Collars And How Do They work?
In very simple terms, bark collars are devices that emit an unpleasant stimulus when your dog barks.
This programs your dog to associate barking with the unpleasant stimulus, which will eventually make him/her stop.
There are different types of bark collars, which you can use depending on your dog's temperament and how he/she reacts to different stimuli.
Types Of Bark Collars
1. Spray Bark Collars
Spray bark collars are devices that emit a tiny burst of citronella or another unpleasant scent when your dog barks.
Since most dogs don't like the very powerful smell of citronella, with enough time, they will associate this discomfort with excessive barking.
And as a result, it will stop barking because he/she will no longer want to experience that feeling.
One downside of spray bark collars is that some dogs are allergic to them, and this can cause side effects such as irritation of the skin or eyes.
2. Ultrasonic Bark Collars
Dogs' ears are much more sensitive than human ears, and they can easily hear sounds that we cannot.
An ultrasonic bark collar utilizes this fact and works by emitting a high-pitched sound that is only audible to dogs when they bark.
This noise is unpleasant and irritating, and will eventually cause the dog to stop barking because he/she will no longer want to hear it.
3. Vibration Bark Collars
This is another common type of bark collar.
These devices work by producing a series of vibrations whenever the dog barks.
The vibrations are not harmful in any way, but they are unpleasant and will encourage the dog to stop barking.
4. Static Shock Bark Collars
This is the final and most controversial type of bark collars.
These collars work by emitting a static shock similar to that which you would get when touching a doorknob after walking across the carpet in your socks.
In other words, it's not harmful, but it is definitely unpleasant.
The problem with e-collars is that they can burn your dog's skin if used excessively, and not all dogs respond well to them.
Best Bark Collars For Small Dogs Selection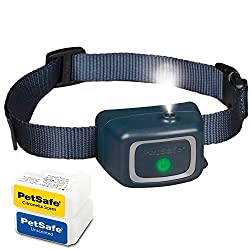 The PetSafe Automatic Spray Collar is a safe, humane way to stop your dog from excessive barking.
This collar automatically delivers a brief spray of harmless citronella scent whenever your dog barks uncontrollably.
For it to activate, it requires both vibrations from your dog's vocal cords as well as the sound of your dog's bark.
This means that it won't activate if another dog barks nearby or if your dog is making some other noises.
In terms of battery life, this automatic spray collar features a rechargeable battery that can last for up to 40 hours, which is quite impressive.
It also comes with its own charger that can fully recharge the battery within just 2 hours.
Further, the collar features an anticlog nozzle design that prevents the nozzle from getting clogged with spray and dust.
This means that it will continue working effectively for a longer time than other similar devices.
Another nice thing about this collar is that it comes with two spray cartridges that each contain enough spray for 35-40 sprays.
And if that isn't enough, you can buy additional spray canisters from PetSafe.
As for the collar itself, it is a one-size-fits-all design that can fit dogs from eight pounds and up.
Pros
Dual detection technology that utilizes voice and vibration sensors to detect barks

The spray is available in both unscented and citronella

Adjustable collar that fits small and large dogs

Water resistant design
Cons
It does not give a warning tone before it sprays. The spray is automatically activated as soon as a bark is detected

Not suitable for super fluffy dogs, as the collar's sensor needs to be snug on the neck to sense your dog's vocal cords. Also, if your dog has a lot of hair it might cover the spray nozzle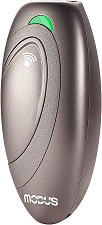 Looking for a high-tech way to keep your dog from barking that isn't really a collar? Look no further than the MODUS Ultrasonic Dog Barking Deterrent!
This device emits an ultrasonic sound at 25KHZ that only dogs can hear.
The sound is unpleasant to dogs, but not harmful, and it will eventually teach them that barking results in an unpleasant experience.
I really like how this device features a LED indicator light that turns green when it's working.
This is an extremely important feature in my opinion, as it makes sure you are not constantly blasting your dog with ultrasonic sound unnecessarily.
With a control range of 16.4 ft, this convenient device can be used indoors or outdoors, and even through walls!
It's also really easy to use and comes with an adjustable anti-static wrist strap that fits nicely in your hand and ensures a comfortable and secure fit.
Pros
Suitable for all breeds and sizes of dogs

Features a green LED indicator light that turns on when the device is working

Easy to use

Can work up to 16.40 ft away

Convenient anti-strap design

Budget friendly
Cons
It doesn't work automatically

It's more of a dog trainer than a bark collar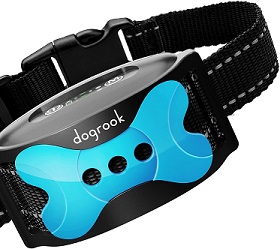 The next product on today's list is the DogRook vibration bark collar.
This humane bark collar features 5 vibration levels, 5 sensitivity levels, and 2 power modes: Regular and increased vibration.
In the regular mode, the collar will give your dog a warning beep first, then it will vibrate at the selected vibration level.
The increased vibration mode, on the other hand, will gradually increase the vibration with every bark, which is extremely effective for stubborn dogs.
Similar to the Petsafe spray collar, this one also features a smart microphone that doesn't pick other noises or other dogs barking up, making it a great choice for multi-dog households.
DogRook collar also boasts a rechargeable lithium-ion battery that can last up to 15 days on a single charge and comes with its own USB charger that plugs into any standard USB port.
Additionally, it comes with a free prong cover to prevent the prongs from damaging your dog's skin.
Pros
2 power modes and 5 vibration levels

Suitable for small dogs

Features a smart microphone that only picks up the sound of your dog barking

Includes prong covers to prevent scratching

Rechargeable battery that lasts up to 15 days on a single charge

Waterproof design
Cons
The strap design could be better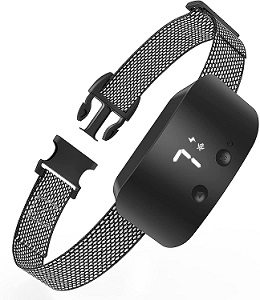 This is a 3 in 1 bark collar that offers 3 training modes, 7 sensitivity levels, and automatic operation, so you don't even need to use a remote!
You can choose between e-shock mode, vibration mode, and warning beep mode.
Both the static shock and vibration modes offer 7 levels of customization to ensure that the shock or the vibration is just strong enough to get your dog's attention, but not too strong that it will harm them.
The warning beep mode, on the other hand, has no level settings.
When a bark is detected, the collar will make a warning sound that your dog will hear before getting shocked or vibrated.
This way you can warn them to stop barking without actually shocking or vibrating them!
Speaking of bark detection, this collar has a built-in smart microphone that only picks your dog's bark and filters out other noises, so you don't have to worry about it going off every time another dog barks or your neighbor mows their lawn.
The NBJU bark collar for small dogs also comes with a rechargeable lithium-ion battery that can last up to 12 days on a single charge with a USB charger included.
Finally, the collar features an IPX67 waterproof design, making it perfect for both indoor and outdoor use.
Pros
3 training modes and 7 sensitivity levels

Smart microphone that only picks up your dog's bark

Rechargeable lithium-ion battery with up to 12 days of use

IPX67 waterproof design for indoor and outdoor use

Adjustable collar that fits dogs from 11 and up to 120 lbs
Cons
Not suitable for stubborn dogs, as multiple shocks can burn their skin, even if you are using the protective sleeves

Instructions are quite hard to follow
How To Choose The Best Bark Collar For Small Dogs?
1. Size
You want to make sure that the collar is adjustable enough to fit your dog's small neck snugly, without being too tight or too loose.
So the first thing you need to do is to check the size range of the collar.
Luckily, most collars come with adjustable straps that will fit dogs from 8 lbs and up, but there are a few exceptions.
So make sure to double-check the size range before making your purchase.
2. Weight
If the collar is too heavy, it can hurt your dog's neck and make it difficult for them to move their head.
So you'll want to look for a lightweight collar that won't weigh your dog down and cause them discomfort.
In the case of small dogs, we recommend collars that weigh less than 5 Ounces for maximum comfort.
3. Waterproofing
You'll want to make sure the collar you choose is waterproof, especially if your dog loves playing outside.
Waterproofing will protect the collar's electronic components from getting damaged when your dog is playing in the rain or snow.
However, it's important to mention that being waterproof doesn't mean that it can be submerged in water.
It just means that these collars can withstand a little bit of water, like a rain shower or getting caught in the snow, so keep that in mind.
4. Battery Life
The last thing you want is for the collar to run out of battery when you're not there to monitor how your dog reacts.
So it's important to look for a collar that comes with a long-lasting battery.
Almost all collars come with rechargeable batteries these days, but some have a shorter battery life than others.
Generally, we recommend getting a bark collar with at least 15 hours of battery life, but if you can find one that lasts more than a day, even better.
5. Allergies
Some pooches are allergic to the materials used in bark collars, so you'll want to make sure that the collar you choose won't cause your dog to have an allergic reaction.
This is particularly important if you are using a spray bark collar, as some dogs can be allergic to citronella or other chemicals used in the formulas.
If you're not sure whether or not your canine is allergic to certain materials, consult with your veterinarian before making your purchase.
6. Your Dog's Temperament
Not all collars are created equal, and some work better on certain dogs than others.
If your dog is a bit stubborn or shows aggressive behavior, then it's not recommended to use bark collars at all, as this can only make matters worse.
In this case, it might be better to try other methods like positive reinforcement or a behavior modification program because most of the time, bark collars will only make him more aggressive, and if you are using something static shock collars, even the lowest settings can lead to multiple skin burns.
However, if your pooch is a sweetheart who's just a bit too loud for their own good, then a bark collar might be the perfect solution for you.
Final Thoughts
Finding the right bark collar for small dogs can be a daunting task, but if you keep these things in mind, you're sure to find the perfect one for your furry friend.
Just make sure to read the instructions carefully and try not to use the collar on dogs who are too stubborn or aggressive, as this can lead to further behavioral problems.
| | | | |
| --- | --- | --- | --- |
| | My Dog is a Robot covers the pet technology industry. Keep up with the latest news about products, services and companies in the pet tech space. | | Contact Us |