Are Online ESA Letters Legit?
Quick Picks!
– Leave a review for an ESA company and help others decide which ESA provider is right for them
– Pettable [Best for Housing] – A startup reinventing the ESA industry
– CertaPet [Best for Travel] – Experienced company in business for over 6 years
In recent years, there has been a boom in online services offering emotional support animal (ESA) letters. At first glance, this seems like a good thing, as it would make it more convenient for people suffering from a disability to get the necessary paperwork for housing and travel purposes.

However, this does raise an issue: how do you know whether an online ESA service is legitimate and whether you can trust that an ESA letter will work as intended?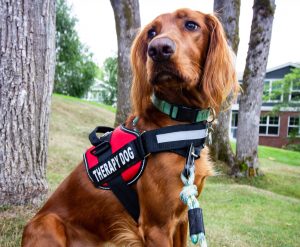 In this article, we will outline the important facts you need to know about ESA letters, review the leading online ESA services and determine which, if any, of the online ESA letters are legitimate. We also will take a look at recent changes to the ESA rules.
But first, what is ESA?
ESA stands for emotional support animal and is the term used to describe an animal that helps with a diagnosed mental or emotional condition that impacts the owner's daily life. 
An ESA can be any type of domestic animal: dog, cat, rabbit, ferret, etc.  An ESA is different from a service animal, which is limited to trained dogs and miniature horses. An ESA does not need to be trained because its mere presence and companionship help alleviate the illness or other medical conditions of its owner.
The ESA, or assistance animal, is not considered a pet according to the US Department of Housing and Urban Development (HUD) and the US Department of Transportation (DOT) and therefore, is excused from most of the rules that limit pets for travel and housing purposes. HUD is the federal agency that oversees claims of housing discrimination and DOT is the federal agency that provides oversight for air travel.
What is an ESA letter?      
An ESA letter is a document that establishes that a person has a disability and a need for an assistance animal. The letter must have the signature of a medical doctor or a licensed health care professional, which includes professionals such as psychiatrists, psychologists, nurses, licensed counselors and the like.
What can an ESA letter be used for?
A valid ESA letter establishes that an animal shall be treated as an emotional support animal and not a pet. This typically prevents the following: 
Housing laws that restrict pets in rental property

Airline regulations that restrict animals from traveling on an airplane
In simple terms, this means that having an ESA allows a person to live with their animal even in pet-free housing and to bring their animal with them on an airplane.
How do you get an ESA letter?
If you are currently being treated by a doctor or healthcare professional for your disability, the easiest route is to ask them if they are familiar with emotional support animals and whether they have written an ESA letter before. If they have, your problem is quickly solved. The Bazelon Center for Mental Health Law provides a sample letter which may be helpful.
However, if your doctor is not willing to write an ESA letter, or if you are not currently seeing a healthcare professional, the best course of action may be to obtain an ESA letter online.
This table provides an overview of the most popular online ESA service providers. The notes column indicates how the company responded when asked if they would refund the cost of the ESA letter if it was rejected by a landlord. Below the table is an overview of the application process.
Company
Price
Time
Notes
Pettable

Housing: $149

Travel: $149

Combo: $199

1 – 3 days
The only ESA company offering a satisfaction guarantee. They will refund your money if your letter does not work.
Certapet

Housing: $149

Travel: $149

Combo: $199

2 – 3 days
If the mental health professional does not recommend an ESA they will refund, less a $35 service fee. No refund if the ESA letter is rejected by a landlord.
ESA Doctors

Housing: $159

Travel: $149

Combo: $189

1 – 3 days
Refund only if also purchased the ESA Shield Guarantee for an extra $75
US Dog Registry
Housing $89

Travel: $89

Combo $198

3 – 7 days
Refund with a written denial from landlord.
Waggy

Housing: $150

Travel: $150

1 day
Numerous complaints about the company with the BBB.
The process of securing an ESA letter for each of the above companies is pretty similar. First, you must fill out online forms with background information, details about your pet, and answer a series of questions concerning your mental health. Expect 15 – 30 questions such as:
have you experienced anxiety or panic attacks in the last 30 days?
do you have trouble sleeping?
have you been prescribed medication for depression?
have you experienced a traumatic event in your life?
Upon submitting the form, the companies review your answers to determine whether you are a good candidate for receiving an ESA letter. The review process is automated and occurs as soon as you finish the form. If you are deemed an acceptable candidate, you then have the opportunity to schedule a call with one of the companies licensed professionals. All calls are audio only, no video is required.
This is the point where you pay for the service: after you have passed the initial screening, but before you talk with a counselor. And most of the professionals will be counselors; none of the companies could promise a doctor or psychiatrist.
Some of the companies will try to upsell other items: US Dog Registry will include tags, ID cards and a dog vest for an extra fee; ESA Doctors will provide expedited service or extra documentation for a fee. None of these items are necessary except the ESA letter, but some people may find these items useful.
During your phone call with the licensed professional, you will be asked more questions about your mental health and topics such as depression, anxiety, PTSD and how these conditions affect your daily life. You will also be asked about your animal and how it helps you cope with your problems.
If the professional finds that your ESA is of benefit to your mental health, you will receive an ESA letter. The letter should be on the counselor's official letterhead and signed and dated. Most services are very familiar with these requirements, so the content and format of the letter should not be an issue.
Are ESA letters from these companies legitimate?
Technically speaking, these letters are legitimate.
By that, I mean the letters will be signed by a licensed professional, on official letterhead, and they will almost always permit the animal owner to avoid pet restrictions on housing and travel.
Now, one can argue that these letters should not be considered legit because the professional signing the letter typically hasn't performed a thorough review of the person's medical and psychiatric history and, most importantly, is not treating the person on an ongoing basis. There is some merit to this argument.
Further, there are several threads on Reddit and Quora where people contend that every single online ESA service is a scam and that they exist only to make money. There is some merit to this argument as well.
However, if the goal of an ESA letter is to simply allow a person to avoid pet restrictions on housing and airline travel, then these letters will accomplish that goal.
People certainly should get treatment for mental health and psychiatric issues and, in a perfect world, they should have a therapeutic relationship with a mental health provider. However, life can get messy. People move, lose jobs, and drop health insurance. Psychiatrists retire or otherwise become unavailable. In these situations, an online ESA service can provide much needed assistance.
Additionally, the line between online therapists and traditional therapists is blurring. In the past, online treatment was typically viewed as inferior or even fraudulent. However, due to the coronavirus pandemic, telehealth has gone from a niche rarity to a common practice. The notion that online medical treatment is phony and not helpful no longer has merit. Online mental health treatment and virtual therapy is now widely accepted by the medical profession.
Recent ESA Developments (2020)
Starting in 2019, state and federal agencies began to take a closer look at ESA animals.
This was primarily due to an increase in the number of support animals on domestic flights. Ten years ago, it was rare to see a support animal inside an airplane cabin. By 2019, however, it was not uncommon to see 2 or more animals on a flight. And stories of passengers bitten by support animals, and complaints of animals relieving themselves on crowded planes, flourished on social media.
Airline statistics back up these anecdotes. Delta Airlines flew 250,00 support animals in 2017, up 150 percent from 2015. Southwest Airlines reported flying more than 190,000 emotional support animals a year. American Airlines reported 155,790 emotional support animals in 2017, up 48% from 2016. United Airlines carried 76,000 comfort animals in 2017.
Airlines lobbied the DOT to crack down on what they consider a scam – passengers who call their pets emotional support animals to avoid flight pet fees. Sarah Nelson, president of the Association of Flight Attendants, stated that "the days of Noah's Ark in the air are hopefully coming to an end."  She also claimed some of her union's members were hurt by untrained pets.
In response, the DOT clarified its rules in April 2020. The new regulations specify that the airlines may require:
Documentation that is not older than one year from the date of the flight
The document indicates that the passenger has a recognized mental or emotional disability
The document indicates that the animal is needed as an accommodation for air travel and/or for activity at the destination
The individual providing the assessment is a licensed mental health professional and the passenger is under his/her professional care
The document contains the licensed health care professional's date and type of license and state where the license was issued
The regulations also state the airlines may exclude animals that:
are too large or heavy to be accommodated in the cabin
pose a direct threat to the safety of others
cause a significant disruption
are prohibited from entering a foreign country
In addition to these changes from the DOT,  some states have also begun cracking down on the perceived increase in fake support animals.
In July 2020, Missouri passed a law that made it a misdemeanor to knowingly misrepresent any animal as an assistance animal in order to receive accommodations under the ADA or the Fair Housing Act.
Michigan introduced a bill that would require the health care provider to have a physical office space and have treated the patient for at least six months. The bill was still pending in the Fall of 2020.
Additionally, some states are cracking down on the therapists who sign the ESA letters.
Utah reprimanded a mental health counselor after finding she wrote a letter recommending an ESA for someone who didn't need one. The counselor, who practices in Salt Lake City, was also ordered to take additional classes.
A therapist was disciplined by the State of California after a landlord in Pennsylvania filed a complaint alleging that she had given his tenant an ESA letter after a one-hour remote interview. The therapist was fined, prohibited from practicing telehealth with new customers and had her license put on probation for 3 years.
While these laws and actions may seem like overreach, they were typically enacted in response to individuals who took advantage of the relative ease it was to declare a pet as an assistance or service animal.  An example is the Arizona man who registered a swarm of bees as an ESA. Sounds ridiculous, but the man uploaded a random photo of a beehive and was able to register it as a service animal. (It should be noted however, that the man did not actually obtain an ESA letter for the bees. He simply registered the beehive on a website – an act that gives him no rights or benefits.)
The bottom line here is that the ESA rules are in a state of flux and what is permissible today may not necessarily be so in the future.
Common ESA Questions 
Does an emotional support animal need special training?
No, ESAs do not require any special training. They provide support through their companionship. It should be noted that ESAs are different from service animals, which are dogs (or miniature horses!) that do need training to perform tasks for people with disabilities (for example guide dogs for the visually impaired.)  Service animals have greater public access rights than ESAs and may accompany its owner into places like restaurants, stores, etc., locations where ESA animals are not permitted.
Does an ESA need to wear special gear, such as a harness or a vest?
No. A signed ESA letter is the only documentation needed to qualify an emotional support animal. Many people choose to use a harness or vest in order for to make their ESA looks more legitimate, but these items do not confer any legal status on the animal.
Can my landlord charge a fee for my ESA?
No. According to the Animal Legal and Historical Center at the Michigan State College of Law, a housing provider may not charge a pet fee or even a deposit.
Can the airlines charge a fee for flying with my ESA?
No. None of the US airlines are allowed to charge an extra fee if you have an ESA letter. However, most airlines require that you provide documentation at least 48 hours before the scheduled flight.
Update: In 2021, the US Department of Transportation changed the rule requiring airlines to allow ESA animals in cabins. After this change, most airlines now require that only Psychiatric Service Dogs (PSD) be allowed in cabins with their owner. PSDs are specially trained service dogs.
Do I need to register my ESA?
No. There is no official registry for emotional supports animals. You only need an ESA letter written by a licensed therapist.
Leave a Review 
If you have obtained an ESA or PSD letter for housing and/or travel, please leave a quick review of your ESA provider here. You remember how hard is was to find a legitimate company, so please help others decide which ESA company is right for them. We will post the customer ESA reviews soon.
We review pet products and services independently, but we may earn a small affiliate commission if you use the referral links on this page. We do not accept money for writing editorial reviews.  Pettable, one of the companies with which we have an affiliate relationship, occasionally sends paid traffic to our website.
| | | | |
| --- | --- | --- | --- |
| | My Dog is a Robot covers the pet technology industry. Keep up with the latest news about products, services and companies in the pet tech space. | | Contact Us |