Cooling Mats for Dogs and Cats
Summer is coming and now is the time to think about keeping your pet comfortable during the hot days ahead. Our two golden retrievers have beautiful thick coats of fur, but they can get awfully warm in the summertime. Overheating can lead to many problems, such as heatstroke or hypertension, so a cooling mat or a cooling pad can be an ideal way to keep your pooch comfortable all summer long.
Cooling mats or cooling pads are basically a dog bed that has a cooling feature built in to it.  The cooling feature typically is one of the following:
water cooled
a gel that absorbs your pet's body heat
elevated design to allow air to flow underneath
Below we review some popular cooling mats, looking at method, effectiveness and pricing.
1. K&H Coolin' Comfort Bed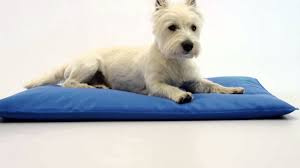 The K & H bed is a water cooled bed that can be used indoors or outdoors.  The bed is filled with 1.5 to 6 gallons of water (depending on bed size) to provide a cool spot for pets.  No electricity is required.
The bed can also be used as an orthopedic bed to aid in a pet's recovery from medical conditions such as arthritis or hip dysplasia.
2. Arf Pets Dog Self Cooling Mat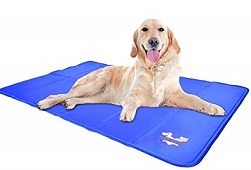 The Arf Pets cooling mat is made from a latex-free material that is 100% safe for animals. The non-toxic cooling gel provides up to 3 hours of heat relief. Requires no electricity or water and can be used inside or outside.
3. The Green Pet Shop Gel Pad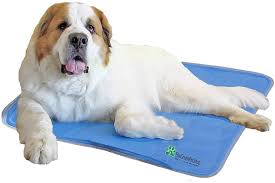 The Green Pet Shop is a popular pet mat that uses a patented pressure activated gel that cools for up to 3 hours. The gel is non-toxic and contained within a durable plastic liner.
The pad requires no electricity or water. It can be used indoors or outdoors and comes in 5 different sizes.
4. AmazonBasics Elevated Cooling Pet Bed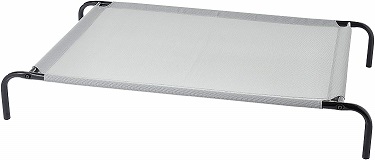 As the name suggests, this is a raised pet bed that allows air to flow underneath your pet.  The bed itself is a breathable mesh fabric that allows for additional air circulation.  Nothing too fancy here, just a solid, cheap option.
Compare Pet Cooling Mats
| | | | | |
| --- | --- | --- | --- | --- |
| | K & H Coolin' Comfort Bed | Arf Pets Dog Self Cooling Mat | The Green Pet Gel Pad | AmazonBasics Elevated |
| Cooling Method | water | gel | gel | air flow |
| Who For | dog, cats | dogs | dogs, cats | dogs, cats |
| Location | indoor & outdoor | | | |
| Cost | $74.99 | $59.99 | $19.99 | $27.99 |
| | | | |
| --- | --- | --- | --- |
| | My Dog is a Robot covers the pet technology industry. Keep up with the latest news about products, services and companies in the pet tech space. | | Contact Us |