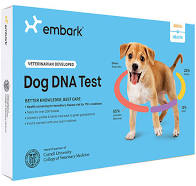 How Accurate is the Embark Dog DNA Test?
If you are curious about your mixed breed dog's parentage, a dog DNA kit can help you determine their ancestry. Collect some saliva from your pup, mail it into the lab and presto, your dog's breed history and health traits will be sent to you. But how reliable and accurate are the test results? Read on to find out.
The Embark Breed and Health Kit
Embark is the second largest pet DNA testing company is the US. The largest is Wisdom Panel, a diagnostic company that is owned by Mars Petcare. Embark was founded by brothers Ryan and Adam Boyko in 2015. The brothers are highly educated, spending time at Harvard, Yale, Cornell and Stanford. The company's genetic testing platform was developed at the Cornell University College of Veterinary Medicine.
Embark's testing covers four primary areas:
Breed
Health
Physical Traits
Relatives
Embark's breed database covers most dogs that are recognized by the American Kennel Club as well as some others.  Over 350 breeds across 200,000 genetic markers are screened.
The genetic-disease detection portion looks for over 190 health conditions, more than any other dog DNA test on the market.  Diseases such as glaucoma, degenerative myelopathy and cardiomyopathy are included in the screening.
The physical trait part of the testing provides details about how big your dog will grow, how much they will shed, coat color and pattern, and information on their appetite and immune system.
The relatives portion of the test offers the ability to find other dogs that your pet is related to. Specifically, you can determine how much DNA your dog shares with other dogs in the Embark database and be given an opportunity to connect with these other dogs. You can find Fido's long lost brothers and sisters!
Accuracy of Embark
The company states that its breed tests are between 95 and 99% accurate, which they claim is the highest on the market. This high degree of accuracy is attributed to research conducted by co-founder Dr. Adam Boyko, who developed a method allowing for the genotyping of over 200,000 genetic markers in dogs.
The company conducts its tests in a state of the art, CLIA-certified lab facility in Ithaca, New York.
Versions of the Embark Test
As of July 2020, there are two primary versions of the Embark Dog DNA test for pet owners. The first is the Breed Identification Kit that tests for over 350 breeds, ancestry details and relatives.
The second version is Breed + Health and it includes all the tests above, while also screening for genetic conditions and more than 190 underlying health issues.
How the Testing Process Works
When a customer orders the kit, a cheek swab and instructions are mailed out. Swabbing a dog's check is quick and painless. No need to visit a vet or obtain a blood sample. The customer then returns the sample to the lab using a provided pre-paid return envelope. Results are available online and in PDF format within 2 – 4 weeks. If the report contains worrisome results, the company contacts the pet owner directly.
Benefits for Pet Owners
While the most common reason pet parents decide to obtain a DNA test for their dog is to determine the makeup of a mixed breed pup, many owners are more interested in learning about genetic health details. Many seek peace of mind regarding their pets health, or wish to plan for future diagnosis and medical expenses.
Interestingly, a review of several leading pet insurance websites does not reveal any discussion about whether the results of a pet DNA test could provide the basis for excluding coverage based on a pre-existing condition.
As such, a clever parent of a puppy from a breed prone to serious medical issues (French Bulldogs come to mind), may wish to get a DNA test to determine the potential of future health issues. Should a serious problem appear likely, the owner could then buy pet insurance before the symptoms arise, thereby avoiding having the medical issue excluded from coverage due to it being labeled as a pre-exisitng condition.
In Summary
The Embark Dog DNA tests are considered to be about 95% accurate. The results provide a great deal of useful information, much more than just breed analysis. The disease predicting capability of the test makes it a great asset in your pet's healthcare plan.
Related articles
A look at the accuracy of Wisdom Panel
Cheapest dog DNA tests (August 2020)
As an Amazon Associate, this website may earn a commission from products or services linked to on this page.
| | | | |
| --- | --- | --- | --- |
| | My Dog is a Robot covers the pet technology industry. Keep up with the latest news about products, services and companies in the pet tech space. | | Contact Us |